Hey guys. We're now looking to hire a new Unity 2D/3D developer to work with us remotely. We're offering $500 USD per month + 5% bonus. Here's the video and details below. Catch us on email if you're interested in applying.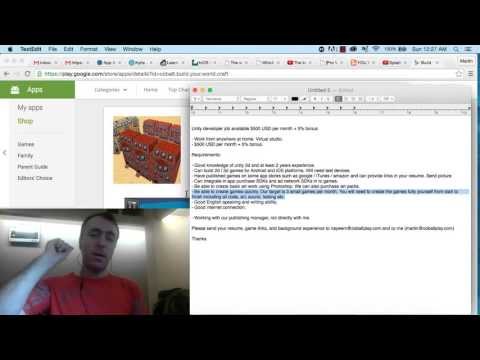 Unity developer job available $500 USD per month + 5% bonus
- Work from anywhere at home. Virtual studio.
- $500 USD per month + 5% bonus.
Requirements:
- Good knowledge of unity 3d and at least 2 years experience.
- Can build 2d / 3d games for Android and iOS platforms. Will need test devices.
- Have published games on some app stores such as google / iTunes / amazon and can provide links in your resume. Send picture
- Can integrate in-app purchase SDKs and ad network SDKs in to games.
- Be able to create basic art work using Photoshop. We can also purchase art packs.
- Be able to create games quickly. Our target is 3 small games per month. You will need to create the games fully yourself from start to finish including all code, art, sound, testing etc.
- Good English speaking and writing ability.
- Good internet connection.
- Working with our publishing manager, not directly with me.
Please send your resume, game links, and background experience to nayeem@cobaltplay.com and cc me on martin@cobaltplay.com
Thanks