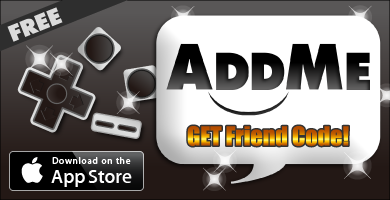 I've released my new app called "ADD Me-Friend Code Finder" as beta version in Canada.
I would like to your feedback to improve this app so please get promo codes listed below.
ADD Me is a BBS app to find or recruit friends for social gamers by uploading friend code or just one tap to copy other friend codes.
Features:
1. Input all information that you are playing at Profile.
2. New post of other players is displayed at Timeline.
Find a player you want to be a friend and tap "Copy Code". It is copied to the clipboard and paste it on the app you want to send a friend request.
*If you want to see new post, tap "Refresh" button at Timeline.
The games listed:
-The Simpsons™: Tapped Out
-Dragonvale
-Rage of Bahamut
-Legend of the Cryptids
-Modern War
-Castle Age HD
-Dark Summoner
-Crime City
-Puzzle & Dragons (English)
-Blood Brothers (RPG)
-Lord of the Dragons
Here is the promo code:
3H77NHAM3WJR
XNM4X4Y667RJ
NM43Y6E34J4A
44PTJR77LNFX
YX47MM7LTNEN
46AMW396679T
N9PAE6K43HTF
9LN6XF7JYFPM
XXHAR9WF34JN
9YKA79AFPRML
TJX9NKM3MT73
RNEWYMTNT33N
XNMTTAF7FRPT
NFLPEWRXM43R
4X6NNPPWE4HJ
RY3MPE34PAXR
PLLLLFAMNWHX
FJ49HE7WWKYN
L77LYYNPJKL4
JAHJFXPEAY7T
3KE3X9TJWAR7
FJ6PK4MWWMHL
YYXNPJR4YJK3
ERXA63FMRETW
9WN3KF9WLEYN