Please do not post the same thing multiple times. The board software automatically flags certain posts as needing moderator attention. This happens the most often for new users. I'm pretty sure this is made clear at the time you attempt to post. Posting the same thing over and over again just makes that many more posts the moderators have to weed through later. This makes us sad. Don't make us sad. If your post/thread doesn't appear, just wait a while. Don't post it again. If it hasn't shown up by the next day, then you can try again. I normally go through posts in the mornings, and try to check a few times throughout the day, but I'm not here 24/7. There will typically be a significant delay before posts are approved. Just be patient.
PDF Preloader (UIProgressView) Example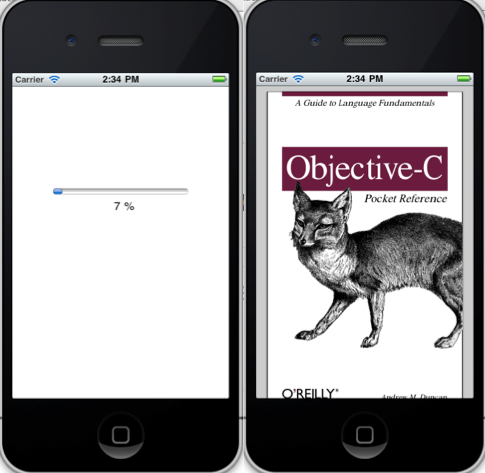 This Preloader is a simple Objective-C project that displays a preloader using UIProgressView while the data is being loaded and displays the PDF file after data loading is complete. You can download the project
here
.
The project only contains one UIViewController. I've written comments in the code too.
But I still would like to share a quick overview:
Quick Flow of PreloaderViewController.m (i recommend looking at the code while reading this so you can get the grasp ):
1. loadView method
a. sets PDF url string
b. initialize UIWebView. The PDF file gets displayed using the UIWebView
c. initialize the UIProgressView and UILabel (which is 0%)
d. start NSURLConnection which loads the file
2. didReceiveResponse method
a. When the NSURLConnection gets response, it will display the UIProgressView and UILabel.
b. initialize the totalfilesize variable
c. initialize the receivedData variable to 0
3. didReceiveData method
a. does the calculation everytime a data is received and increments the progress values
4. connectionDidFinishLoading method
a. displays the PDF file
Enjoy All The Way!