Please do not post the same thing multiple times. The board software automatically flags certain posts as needing moderator attention. This happens the most often for new users. I'm pretty sure this is made clear at the time you attempt to post. Posting the same thing over and over again just makes that many more posts the moderators have to weed through later. This makes us sad. Don't make us sad. If your post/thread doesn't appear, just wait a while. Don't post it again. If it hasn't shown up by the next day, then you can try again. I normally go through posts in the mornings, and try to check a few times throughout the day, but I'm not here 24/7. There will typically be a significant delay before posts are approved. Just be patient.
Tick Flick (iPhone Release) + Free Promo Codes.
[CENTER]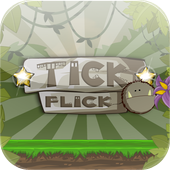 [/CENTER]
Trailer Video Here
http://www.youtube.com/watch?

v=k3rmyatBrgE
App Here
App Store - Tick Flick Lite
Deep in the jungle, lay ticks that you must capture. Shoot the ticks across 80levels in 4
lands, in the dark caves, to the bright jungle areas. Across the night sky, use gravity to
your advantage. Avoid the traps, hit the switches to change areas of the level, avoid
spikes, falling rocks and much more. Each level is unique to the last, each level has their
own strategy.
Try and grab all the stars in the level for the best rating, find all the
stars to unlock a bonus world.


AVAILABLE FOR iPHONE & iPAD
:FEATURE:

HD Graphics

Star Ratings

Unique Level system

Unlock able Areas

Secret Levels

Multiple Control Layouts

Collectibles
Lite Version = Free
Pro Version = 0.99
Like Us on Facebook

:)
https://www.facebook.com/pages/GLiTCH-GAME-Studios-Website-iPhoneAndriod-Application-Developers/148856515234915
We are also given away codes to 50 people to get the game for Free across
all platforms. on our Facebook page. just message us for your code.