The battles for fruits between monkeys and mice are never ended!
How could you retrieve the fruits and all the golden melons for the monkey tribes?
"Monko Jumpo" currently contains 2 cartoon 2D platformer game modes with totally different playing style!
Official Trailer:
Game Review1: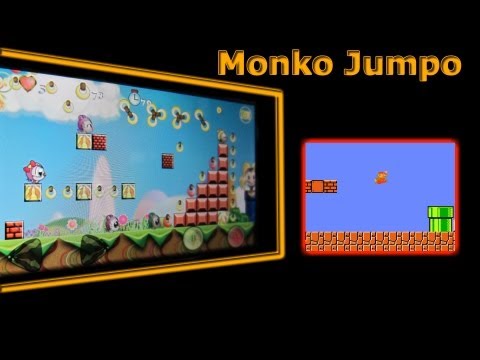 Game Review2:
Mode - Monko Quest (Platformer blend with puzzle elements,you will like it!) - NEW!!
• 2D platformer with well built physic engine, you can pick up/throw away/pile up/push off/stand on the blocks & NPCs!
• Break Bricks, get Coins, find out Golden Melons, fight bosses, get the keys & rescue Princess!
• Various power-ups help you on the journey
• 150+ hand-crafted levels with challenge, EXP & secret levels.
• Multiple Characters.
• Exciting arena & tough boss fight levels.
• Mice wear in various disguise are trying to stop your way.
• Challenge your skills to find and get all Golden Melons unlock episode levels.
• Collect enough "Red Rings" to unlock "Expansion Levels".
• Find out the "Crystal Rings" at some very tricky spot in some levels to unlock challenge levels to save the princess!
✿ Technique:"Final Kick" - You can jump once in air when the character fall down from platform, use it to reach some tricky spot. (it's not double jump)
Mode - Get Fruits Back (Original Relaxing Endless Run)
• Ride on banana slider, chase/hit the mice to sky high and get stolen fruits back to the tribe.
• Get enough fruits to pass levels before reach goal.
• More than 20 kinds of equipments, power-ups, helps you in your adventure.
• Collect "Banana Rings" to get equipments and use super equipments at right timings.
• You can choose the world and expansion theme to build up the stage you like to play.
• Each expansion theme provide unique random equipments for your mice hunting.
• Multiple Characters.
• Randomized stage environment each time you play.
• Destructive fun, easy way to get on a rampage for all ages!
✿ Technique:"Jumpo Hit" - touch jump right before hit objects to popped out more items.
Highlight:
✿ Power-ups can be stacked up make various combinations.
✿ Compete against your friend through Game Center & Openfeint.
✿ 8 leaderboards & 40+ achievements await for your challenge.
☆ "Free" new game modes, characters, season expansions, levels by updates!!☆
If you like Monko Jumpo, please don't forget add a review or rate us to help us keep making more free update!! Thank you for your support!!
Please "Report bugs" or "Share your ideas", we will be very appreciated for your comments!
iTunes link
Find out secrets
Follow us on Twitter
Tips in Get Fruits Back mode:
you play as a monkey ride on banana, hit the mice to get the fruits back.
each time you hit a mouse or container, they would pop out some fruits.
on left side there's a level quota, get the fruits exceed the quota before you reach the goal.
you could upgrade your equipment by collecting the banana-rings.
after you upgrade 3 of your equipment, fill out the energy bar by collecting more banana-rings to active your super equipment.(the icon at bottom left)
the game theme can be change by click the buttons which on your first sight when you start the app.(hit them & the scene changes after loading)
there are special equipments in GFB mode on each theme.
Have fun!